WELCOME TO THE CRYSTAL SEEN'S
DIG YOUR OWN CRYSTALS WEB SITE!
Here at The Crystal Seen, we know that some of you who want to "Dig Your Own Crystals" are just passing through and may not have the day to spend mining, or the tools to dig your own crystals. Or you may have young children who might only be good for an hour our two, and not a whole day in the mine to dig your own crystals. The crystal mines can also be quite rugged and some of you may have difficulty getting around. It is for these reasons (and more) that we began building our "Labor of Love" over seven years ago. We now have over 100 yards of "tailings" (crystal dirt) right here at our shop, which contain a heavy concentration of crystal from several different mines...a few of which are not even open to the public, or are from Oklahoma. With a little work and a good eye, you can find jewelry points to larger points and clusters. By continuously keeping these tailings well-supplied, we can proudly represent most of the mines in the area and the different types of crystals they have to offer. And, for the sake of the children, (of all ages) there are also other minerals, fossils, gemstone rough and more that can be found in our tailings, as we host children's, family and adult Dig Your Own Crystals and Mineral Workshops here, as well.
We have a great love for these crystal "treasures" and have dug many of these mines ourselves, but because we don't have the time it takes to run a mine, we came up with another idea, and now we have the means to share this experience without having to leave our shops. I am a licensed miner who will be happy to help you find answers to any questions you may have while you are here. When you dig here with us we will also provide all the tools, from screw drivers to shovels that you may need, and we will dig with you awhile to help ensure that you will have an enjoyable learning experience and abundant dig. We recommend that you bring gloves and wear close-toed shoes... no sandals please! There is a bathroom available on the premises, and many other services available as well. Here, the focus is on the "joy" of the dig...we enjoy sharing our time, services, knowledge and crystals with all those who express a desire to learn. As for our rates, children 7 and under are free with a paying adult, and "children" of all other ages are $8.00/hour or two people for $15.00/hour. If you would like to stay longer than an hour or even all day we ask no more than $20/day/adults and $10/day/kids, and you can conveniently come and go all day long till dark. For those who don't want to dig when other members of your party do, we have two crystal and gift shops in which you can browse, or you can just pull up a chair and watch your family. So come join us in a magical adventure, even if it be for only an hour, and we promise you a memorable experience and the joy of digging your own crystal treasures.
You can find us at
The Crystal Seen Trading Co.
Dennis & Julie (RavenHawk) Kincaid
2568 Hwy 270 E.
Mount Ida Ar. 71957
(870) 867-4072
Please email Julie, our dig-master at ravenhawk@cebridge.net
Other sites we suggest:
---

A wide variety of metaphysical crystals, jewelry and gemstones, daily affirmations, animal wisdom and much more for your spiritual enlightenment. We are based in Mount Ida, Arkansas "The Quartz Crystal Capital of the World".
---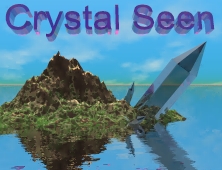 http://stores.ebay.com/CRYSTAL-SEEN
Find 100's of metaphysical crystals, jewelry, gemstones and more for sale and auction in eBay shop!
---

SUPER SEVEN CRYSTAL, Melody's Stone is a much needed gift from the Espirito Santo (meaning Holy Spirit) region of Minas Gerais, Brazil. Also called Sacred Seven, they are yet another stone in the kingdom which never needs clearing or cleansing.
---
I am currently a licensed miner here in Mount Ida, Arkansas "The Crystal Capital of the World" and have recently discovered that we have the ability to assist the girls (from Daisies to Seniors) in achieving a Petal, Try-It or badge, while they are digging crystal with us, here in our "tailings" (crystal dirt).
---
Being great lovers of Swords and Magic we are delighted to announce the return of our "Swords Of Stone" line of jewelry.
---
---
DIG YOUR OWN CRYSTALS, QUARTZ CRYSTAL, CRYSTAL, QUARTZ ROCK, MINING CRYSTALS, WHERE TO MINE CRYSTALS, HOW TO MINE CRYSTALS, WHEN TO MINE CRYSTALS, ARKANSAS MINING, THINGS TO DO IN ARKANSAS, GEMSTONE MINING
DIG YOUR OWN CRYSTALS